What are cochlear implants?
Cochlear implants are surgically implanted medical devices that treat hearing loss by replacing the function of the damaged sensory hair cells inside the inner ear (cochlea). They are designed to help improve communication and quality of life for individuals who are no longer helped by hearing aids.
Reviews
"Cross Timbers ENT opened a new location in Midlothian late 2022. Prior to this, I had been visiting their location in Mansfield. Since I reside in the Midlothian area, the convenience is great, however, the greatest attribute of the Midlothian location is the care and attention you are welcomed with when you enter the reception area where you are "happily and sincerely" greeted by Kristina Dakof and/or Kayla Burnett. These two ladies, without hesitation, will and do entertain all of your questions, assist with your scheduling needs and do their absolute best to ensure your experience with Cross Timbers Midlothian is the very best it can be. Having Kristina and Kayla as the first and last contacts the customer interacts with is a win/win for the customer and Midlothian Cross Timbers. They are two exceptionally talented associates whom Cross Timbers is fortunate to have in its employment!!!"
- R.R. /
Google /
Jan 13, 2023
"I have experienced many ENT Doctors and office staff, this office staff and Doctors are hands down the best! They listen to patients needs and give true honest answers and care. Our normal Doctor did not have an appointment open, so we scheduled with the PA Tyler Shaw. He was great! He he gave the same level of care the Doctor would have. Excellent job!!"
- K.C. /
Google /
Jan 10, 2023
"I like when the doctor listen to you and give you enough time to talk about your condition, I highly recommend Dr.Wu to my family and other people in my city and nearby places."
- Y.H. /
Google /
Jan 10, 2023
"Very informative and excellent bedside manner."
- A.M. /
Google /
Jan 10, 2023
"Got in quickly and everyone was nice. Dr Wu was great"
- S.G. /
Google /
Jan 10, 2023
Previous
Next
How do cochlear implants work?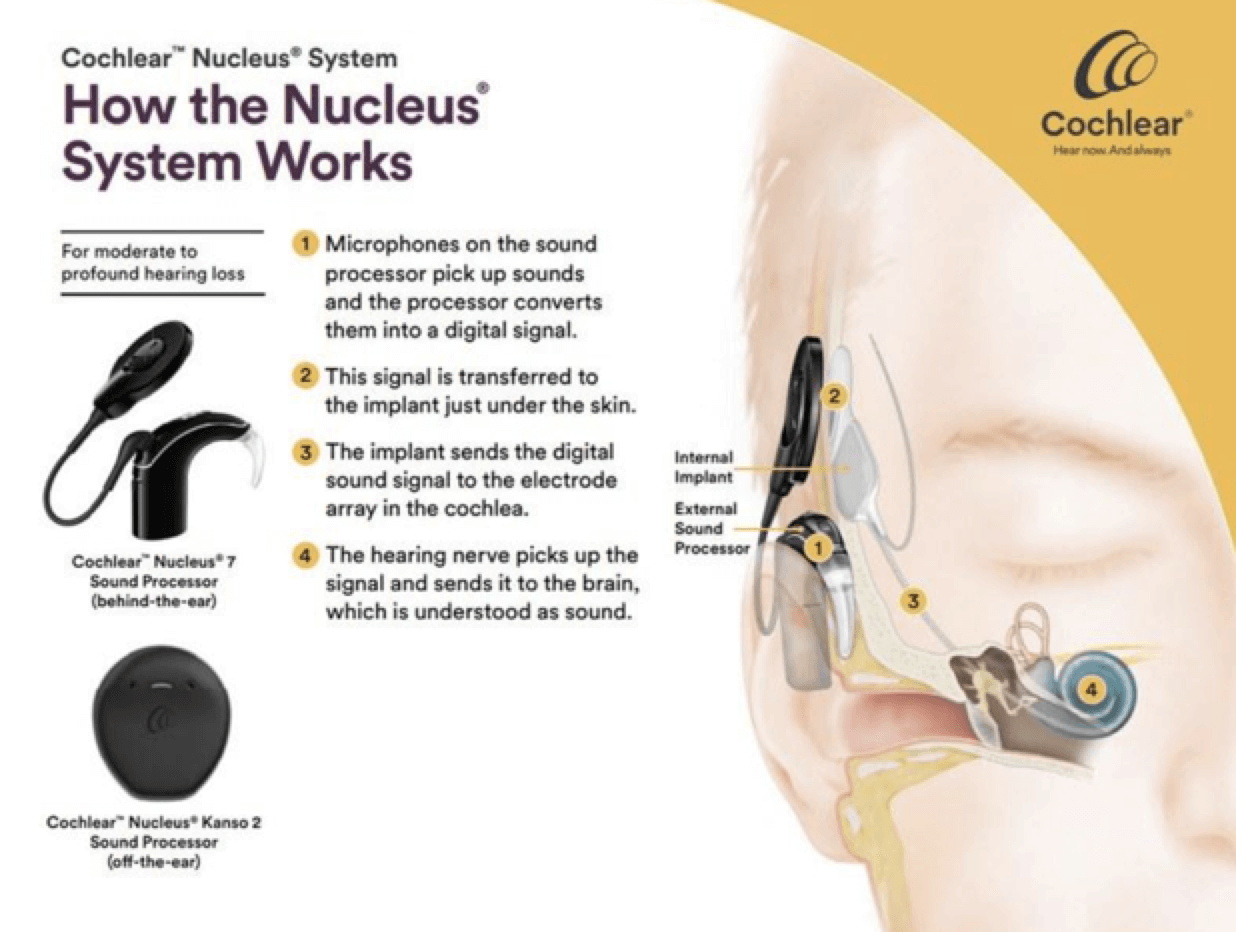 Am I a candidate for a cochlear implant?
Cochlear implants are intended for individuals with moderate to profound sensorineural hearing loss where traditional hearing aids are no longer providing sufficient benefit towards speech understanding. Cochlear implant recipients must also have the motivation to participate in hearing rehabilitation to maximize the benefit that cochlear implants can provide.
What is the process of cochlear implantation?
Candidacy must be established first by undergoing a hearing test, speech testing with your current hearing aids, a medical evaluation to establish the health and anatomy of the cochlea with medial imaging (i.e., MRI and/or CT).

Cochlear implants are surgically implanted under general anesthesia at a local hospital. Recipients are typically able to go home the same day as their surgery. The external sound processor is activated approximately 4-6 weeks after surgery. Hearing rehabilitation exercises, either at home or with a speech therapist, will be necessary. Within 3-6 months, most people with cochlear implants make considerable gains in speech understanding; however, in some cases it may take up to a year to understand speech.

Do I need two cochlear implants?
Adults will often be implanted in one ear (the poorer ear) and wear a hearing aid in the other ear. Adults may then progress to two cochlear implants as hearing loss progresses in the hearing aid ear.
Are cochlear implants safe?
Cochlear implants have been approved by the U.S. Food and Drug Administration (FDA) for nearly 40 years.
Will my insurance cover a cochlear implant?
Cochlear implants are covered by Medicare and commercial/private health insurance if you meet FDA criteria for implantation.
Related Procedures