What are cochlear implants?
Cochlear implants are surgically implanted medical devices that treat hearing loss by replacing the function of the damaged sensory hair cells inside the inner ear (cochlea). They are designed to help improve communication and quality of life for individuals who are no longer helped by hearing aids.
Reviews
"i've gone to Kaitlyn for my facials for a while and my skin is so happy. she's helped me get a good skincare routine to maintain my facial results"
- T.G. /
Google /
Aug 04, 2023
"Super nice every one there was great"
- L.B. /
Google /
Aug 04, 2023
"Sinus issues have been plaguing me since January. Dr. Wu was able to do a CT Scan in his office immediately and was able to identify the problem."
- C.J. /
Google /
Aug 03, 2023
"I am glad that we chose Cross Timbers Arlington as our son's ENT provider. From check-in to check-out, everything was so smooth.Dr. Cho listened all my concerns, questions and explained everything very clearly. I am also very grateful to Marsha for all her efforts regarding the surgery scheduling. I am totally satisfied with Dr. Cho, Dr. Stewart (Audiologist) and all her staff and would absolutely recommend."
- A.I. /
Google /
Jul 29, 2023
"Very pleasant. He took time to explain and answered questions."
- L.R. /
Google /
Jul 28, 2023
Previous
Next
Am I a candidate for a cochlear implant?
Cochlear implants are intended for individuals with moderate to profound sensorineural hearing loss where traditional hearing aids are no longer providing sufficient benefit towards speech understanding. Cochlear implant recipients must also have the motivation to participate in hearing rehabilitation to maximize the benefit that cochlear implants can provide.
What are the Benefits of Cochlear Implants?
There are many reasons people choose to receive cochlear implants at Cross Timbers ENT. A few of the main benefits include:
Improved hearing: Surgery allows men and women to understand basic conversations and everyday sounds more effectively than hearing aids.
Enhanced communication: Cochlear implants make it easier for people to communicate with family members and friends.
Increased independence: Patients with cochlear implants can perform everyday activities with more autonomy and confidence.
Improved safety: With improved hearing, individuals can detect alarms such easier, increasing their safety in potentially dangerous situations.
How do cochlear implants work?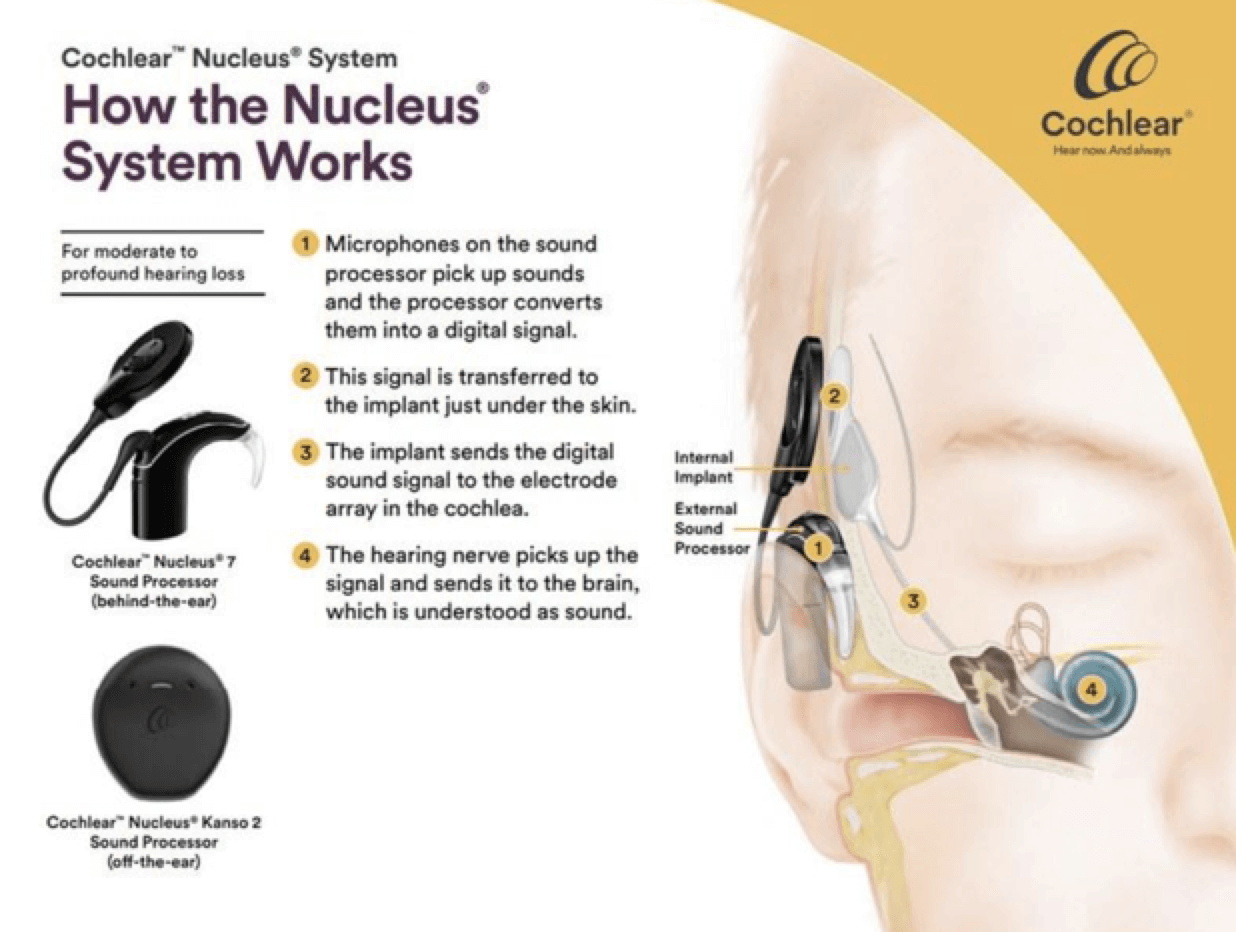 Do I need two cochlear implants?
The decision to receive one or two cochlear implants depends on your specific hearing needs and the extent of hearing loss in each ear. While some individuals benefit from bilateral implants, having two cochlear implants may only be necessary for some. Adults will often have a cochlear implant placed in one ear (the poorer ear) at Cross Timbers ENT and wear a hearing aid in the other ear. They may then replace the hearing aid and progress to two cochlear implants as hearing loss progresses.
Are cochlear implants safe?
Yes, cochlear implants are considered safe and have been approved by the U.S. Food and Drug Administration (FDA) for nearly 40 years. The surgical procedure to implant the device is generally well-tolerated, and complications are rare. It is essential to discuss your individual health condition and concerns with our providers at Cross Timbers ENT before deciding on cochlear implantation.
Will my insurance cover a cochlear implant?
Coverage for cochlear implants varies depending on your insurance plan and the specific criteria set by your provider. Cochlear implants are typically covered by Medicare and commercial/private health insurance if you meet FDA criteria for implantation. We advise contacting your insurance company directly to understand your coverage options and determine the best path for obtaining a cochlear implant in Arlington, Midlothian, or Mansfield, TX.
What is the process of cochlear implantation?
Candidacy must be established first by undergoing a hearing test, speech testing with your current hearing aids, a medical evaluation to establish the health and anatomy of the cochlea with medial imaging (i.e., MRI and/or CT).

Cochlear implants are surgically implanted under general anesthesia at a local hospital. Recipients are typically able to go home the same day as their surgery. The external sound processor is activated approximately 4-6 weeks after surgery. Hearing rehabilitation exercises, either at home or with a speech therapist, will be necessary. Within 3-6 months, most people with cochlear implants make considerable gains in speech understanding; however, in some cases it may take up to a year to understand speech.
Related Procedures
Related Post